Browsing articles in "Drugs"
Rolling Stones Remastered Exile on Main Street
Rolling in L.A. with the Stones
On May 18, the Rolling Stones' 1972 classic Rolling Stones Exile on Main Street
will be re-released in three editions: the remastered album, a version with bonus tracks and a superdeluxe set with vinyl, DVD and booklet (rumors of a super-duper-deluxe set complete with hypodermic and burnt spoon remain unconfirmed). The DVD is a super-cool behind-the-scenes during the making of "Exile on Main Street"
in the early 1970's. A must see for rock music fans and Rolling Stones fans.
Time has justified The Rolling Stones' Exile on Main Street mythological standing as a masterpiece of murk, an uber-bluesy collection of spooky grooves. Fans know of (and have mythologized) the band's infamous sessions at Nellcote in the south of France . And while it's true that most of the album's basic tracks were recorded there, where the Stones had been taxed into self-exile, Exile was actually wrapped and mixed right here in Los Angeles .
The sunlight, the drive to work, the way the girls look. L.A. 's got a very strong set.

Marshall Chess
president of Rolling Stones Records
After the French heat got hip to Nellcote's pharmaceutical follies, the Rolling Stones fled and arrived in L.A. on November 29, 1971. " L.A. added a whole dimension to Exile's mixing and assembly," recalls Marshall Chess, who, as president of Rolling Stones Records, was privy to the inside. "The sunlight, the drive to work, the way the girls look. L.A.'s got a very strong set."
Chess says Mick Jagger was in charge of sessions at Sunset Sound Recorders, still open for business today at the same spot: 6650 Sunset Boulevard, at Cherokee. "We utilized Dr. John and Billy Preston for help. Dr. John got us backup singers. Billy brought that gospel sound to the vocals. They were crucial to the overall sound of the tracks. In some ways they might've been called part-writers. A lot of times it'd be stagnant and Billy Preston would put his shit on it and it would change the riff and texture." Chess remembers "Happy," "Casino Boogie," "Ventilator Blues," "Torn and Frayed" and "Loving Cup" getting extensive overhauls at Sunset Sound.
Former Beatles employee Chris O'Dell was personal assistant to the Stones at the time: "Keith [Richards] was going through his usual Keith stuff. They weren't organized in the studio. I remember many nights being there for hours. It felt like it didn't ever click. Maybe that's the way they recorded. I was used to the Beatles and how refined their sessions were."
O'Dell leased homes for Jagger, Richards and Mick Taylor in Bel Air, while Bill Wyman and Charlie Watts usually stayed at the Beverly Wilshire Hotel. "They were the toast of the town. They got invited to everything that happened," O'Dell recalls. "Mick's a very social person. Always has been." The boys partied with Papa John Phillips and Natalie Wood and visited Ike and Tina Turner's studio in Inglewood.
O'Dell's then-boyfriend, former Band road manager and Mean Streets producer Jonathan Taplin, recommended photographer Robert Frank for the album cover and sent Jagger a copy of Frank's heralded photo collection The Americans. Frank was flown in from New York and they all went down to L.A. 's Skid Row on pre-gentrified Main Street to shoot, hence the album's title.
"I just remember how easygoing it was, just walking down the street and people following us and everybody getting high," says O'Dell. "The street people came out and went, 'Heeeyyy, are you Mick fucking Jagger?' He'd laugh and they'd follow us." Frank used a Super-8 movie camera and the Stones stills on Exile's cover are frames from that film.
Chess says 1 a.m. business meetings with lawyers were not uncommon, and fondly recounts regular jaunts with Keith to Canter's on Fairfax for strawberry shortcake with real whipped cream. Both he and Keith bought Ferrari Dinos at Hollywood Sports Cars, a legendary dealership that's no longer in business. But there was a dark side too.
"After Altamont there were death threats from the Hell's Angels," says Chess. "When we got to L.A. , Mick and I bought pistols. I had a .38 hammerless Smith & Wesson. Mick was paranoid about the Angels." But overall, Chess says, L.A. was a positive experience that put the icing on one of the great rock & roll albums of all time. "They were drawn to all things American. The Stones love American music and fit really well in L.A. "
Bringing it all back to 2010, it's the jones for new music on the bonus tracks that has Rolling Stones freaks scratching. Don Was, the Stones' producer since 1993, was brought in last year to mix and oversee overdubs for unfinished outtakes. He recounts his marching orders: "Keith sent me a fax sayin', 'You don't have to make it sound like Exile. It is Exile.'"
Was explains what he believes to be the key to Exile's off-kilter sound: "It reminded me of what Miles [ Davis ] was doin'. There's this apparent looseness to it, but it's holdin' together. The thing that makes [the Stones] great is that they all feel the beat in a little different place. If you listen to the tracks individually, you go, 'This is a mess.' When you put it all together, it creates this looseness, but it still grooves. There's a centrifugal force that holds the band together. With Exile, they pushed the centrifugal force as far out as you can and still have the center hold."
By Michael Simmons Thursday, May 13 2010
Filmmaker Kevin Booth's New Documentary:
How Weed Won the West
I always support Kevin Booth's efforts to raise awareness and exposing the ridiculous and dangerous draconian drug laws in the USA. I first learned about Kevin Booth many years ago, by being a huge fan of the late great comedian/satirist Bill Hicks. Kevin and Bill had been childhood friends. I feel that part of Bill's long-silenced voice is still heard through he works of his friends such as Kevin Booth.
Free Preview Screening
Venice Beach, Feb. 13
On Saturday February 13th at 8:00PM, the new feature length documentary from Sacred Cow Productions, ???How Weed Won the West??? will be screened at the Organica dispensary in Venice Beach (13456 Washington Blvd.), the site of the LAPD raid from last year as shown in the film.
"How Weed Won the West??? is the story of the people who probably would not die if you took their weed away. People who feel it is their right to smoke a dried flower instead of ingesting dangerous pharmaceuticals for medicine, or alcohol and cigarettes to simply catch a buzz.
Route 36 – La Paz, Bolivia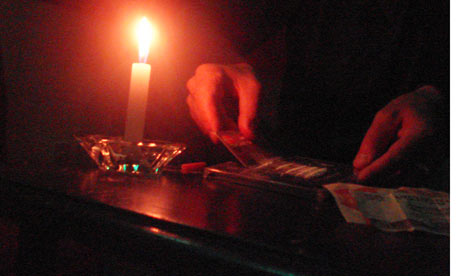 Click on the image to read about the cocaine bar in Bolivia (which, incidentally, is illegal). Here's an excerpt from the article:
"Tonight we have two types of cocaine; normal for 100 Bolivianos a gram, and strong cocaine for 150 [Bolivianos] a gram." The waiter has just finished taking our drink order of two rum-and-Cokes here in La Paz, Bolivia, and as everybody in this bar knows, he is now offering the main course. The bottled water is on the house.
The waiter arrives at the table, lowers the tray and places an empty black CD case in the middle of the table. Next to the CD case are two straws and two little black packets. He is so casual he might as well be delivering a sandwich and fries. And he has seen it all. "We had some Australians; they stayed here for four days. They would take turns sleeping and the only time they left was to go to the ATM," says Roberto, who has worked at Route 36 (in its various locations) for the last six months. Behind the bar, he goes back to casually slicing straws into neat 8cm lengths.
The iSnort iPhone App
One of the best iPhone apps I've seen! Though I'm not sure that it wouldn't drive me insane after the novelty wore off!
I received a message from the Drug Policy Alliance with a request that I compose and send a note to President-elect Barak Obama to help guide him in who he will choose to be his drug czar.
Based on suggestions provided by the Drug Policy Alliance (DPA), I wrote the following letter to Obama. Feel free to copy it, change it, enhance or use it in some way to create a custom letter of your own to the new President of the United States. Once you compose your message you can send it to Barak Obama via his new website: www.change.gov. The process is quick and simple. And well worth the small effort.
Don't be fooled. You make a difference. You make an impact. The more proactive you are, the larger your impact. It only takes a moment to compose and send a letter like the one I wrote below:
Drug Reform Message to Barak Obama
Dear President-elect Obama,
Please choose a drug czar who will champion drug policy reform in the USA. This is a very important step in delivering the change you and I and a majority of our great nation and the world so obviously desire… and need!
It's easy to understand why you are considering to nominate Republican Congressman James Ramstad to be your "drug czar". Rep. Ramstad is in recovery from alcohol abuse and has a track record in support of increasing access to drug treatment. However, Ramstad is still mostly married to the failed punitive drug war policies of the last 30 thirty years. This is a no-brainer: These policies don't work. Never have. Never will.
These failed policies need to change. More importantly, we need to do something different. Just as you had so boldly stated: "Doing the same things over and over again and expecting a different result is the definition of insanity", WE MUST do things differently in drug reform in order for profound change to occur. I figure that you already know this somewhere deep inside your obviously good heart. Please step into it, and we will support you.
Ramstad has voted against medical marijuana five times. He has voted against making sterile syringes more available to reduce the spread of HIV/AIDS three times. Even though his colleagues are increasingly supporting sentencing reform, including eliminating the crack/powder sentencing disparity, he hasn't stood up on the issue. Perhaps Ramstad is not the right choice.
Our nation's next drug czar should be chosen based on the following criteria:
Are they committed to enacting and supporting evidence-based policies? ONDCP should make decisions based on science, not politics or ideology.
Are they committed to reducing the harms associated with both drugs and punitive drug laws? We need a new bottom line for U.S. drug policy.
Do they think drug use should be treated as a health issue not a criminal justice issue? To paraphrase former Baltimore Mayor Kurt Schmoke, we need a surgeon general not a military general or police officer.
Do they welcome and encourage debate and research? We need a drug czar who is open-minded and willing to consider every alternative.
Are they committed to reducing the number of nonviolent offenders behind bars? Our country's next drug czar should be fully committed to major sentencing reform.
President-elect Obama, who you choose as your drug czar will affect everyone. Please nominate a drug czar who supports marijuana law reform, syringe availability and treatment instead of incarceration.
Thank you for your time and consideration,
Best regards and best of luck,
Your Name
Where to Send Your Drug Reform Letter
Once your message is ready don't forget to send it to www.change.gov.
Sacred Cow Productions Presents
American Drug War -The Last White Hope
Friday November 9th, 2007
9:00 pm
Egyptian Theatre, Hollywood

America's War on Drugs gives a radical new perspective to the Drug War by putting a human face on the War's casualties, while enlisting help from some unlikely sources. A Republican Governor? A right-wing Judge? The Last White Hope has made ending the drug war a mainstream issue… Read more at the Sacred Cow Web site.
PLAYA DUST WEB RING
prev | next | random | list
join the ring
Categories
Favorite Sites