Browsing articles in "Drugs"
Filmmaker Kevin Booth's New Documentary:
How Weed Won the West
I always support Kevin Booth's efforts to raise awareness and exposing the ridiculous and dangerous draconian drug laws in the USA. I first learned about Kevin Booth many years ago, by being a huge fan of the late great comedian/satirist Bill Hicks. Kevin and Bill had been childhood friends. I feel that part of Bill's long-silenced voice is still heard through he works of his friends such as Kevin Booth.
Free Preview Screening
Venice Beach, Feb. 13
On Saturday February 13th at 8:00PM, the new feature length documentary from Sacred Cow Productions, ???How Weed Won the West??? will be screened at the Organica dispensary in Venice Beach (13456 Washington Blvd.), the site of the LAPD raid from last year as shown in the film.
"How Weed Won the West??? is the story of the people who probably would not die if you took their weed away. People who feel it is their right to smoke a dried flower instead of ingesting dangerous pharmaceuticals for medicine, or alcohol and cigarettes to simply catch a buzz.
Route 36 – La Paz, Bolivia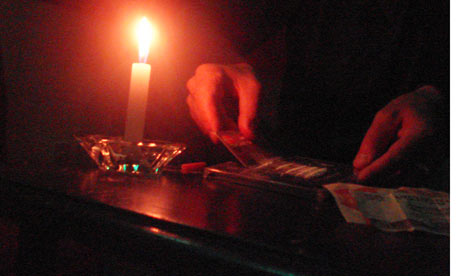 Click on the image to read about the cocaine bar in Bolivia (which, incidentally, is illegal). Here's an excerpt from the article:
"Tonight we have two types of cocaine; normal for 100 Bolivianos a gram, and strong cocaine for 150 [Bolivianos] a gram." The waiter has just finished taking our drink order of two rum-and-Cokes here in La Paz, Bolivia, and as everybody in this bar knows, he is now offering the main course. The bottled water is on the house.
The waiter arrives at the table, lowers the tray and places an empty black CD case in the middle of the table. Next to the CD case are two straws and two little black packets. He is so casual he might as well be delivering a sandwich and fries. And he has seen it all. "We had some Australians; they stayed here for four days. They would take turns sleeping and the only time they left was to go to the ATM," says Roberto, who has worked at Route 36 (in its various locations) for the last six months. Behind the bar, he goes back to casually slicing straws into neat 8cm lengths.
The iSnort iPhone App
One of the best iPhone apps I've seen! Though I'm not sure that it wouldn't drive me insane after the novelty wore off!
I received a message from the Drug Policy Alliance with a request that I compose and send a note to President-elect Barak Obama to help guide him in who he will choose to be his drug czar.
Based on suggestions provided by the Drug Policy Alliance (DPA), I wrote the following letter to Obama. Feel free to copy it, change it, enhance or use it in some way to create a custom letter of your own to the new President of the United States. Once you compose your message you can send it to Barak Obama via his new website: www.change.gov. The process is quick and simple. And well worth the small effort.
Don't be fooled. You make a difference. You make an impact. The more proactive you are, the larger your impact. It only takes a moment to compose and send a letter like the one I wrote below:
Drug Reform Message to Barak Obama
Dear President-elect Obama,
Please choose a drug czar who will champion drug policy reform in the USA. This is a very important step in delivering the change you and I and a majority of our great nation and the world so obviously desire… and need!
It's easy to understand why you are considering to nominate Republican Congressman James Ramstad to be your "drug czar". Rep. Ramstad is in recovery from alcohol abuse and has a track record in support of increasing access to drug treatment. However, Ramstad is still mostly married to the failed punitive drug war policies of the last 30 thirty years. This is a no-brainer: These policies don't work. Never have. Never will.
These failed policies need to change. More importantly, we need to do something different. Just as you had so boldly stated: "Doing the same things over and over again and expecting a different result is the definition of insanity", WE MUST do things differently in drug reform in order for profound change to occur. I figure that you already know this somewhere deep inside your obviously good heart. Please step into it, and we will support you.
Ramstad has voted against medical marijuana five times. He has voted against making sterile syringes more available to reduce the spread of HIV/AIDS three times. Even though his colleagues are increasingly supporting sentencing reform, including eliminating the crack/powder sentencing disparity, he hasn't stood up on the issue. Perhaps Ramstad is not the right choice.
Our nation's next drug czar should be chosen based on the following criteria:
Are they committed to enacting and supporting evidence-based policies? ONDCP should make decisions based on science, not politics or ideology.
Are they committed to reducing the harms associated with both drugs and punitive drug laws? We need a new bottom line for U.S. drug policy.
Do they think drug use should be treated as a health issue not a criminal justice issue? To paraphrase former Baltimore Mayor Kurt Schmoke, we need a surgeon general not a military general or police officer.
Do they welcome and encourage debate and research? We need a drug czar who is open-minded and willing to consider every alternative.
Are they committed to reducing the number of nonviolent offenders behind bars? Our country's next drug czar should be fully committed to major sentencing reform.
President-elect Obama, who you choose as your drug czar will affect everyone. Please nominate a drug czar who supports marijuana law reform, syringe availability and treatment instead of incarceration.
Thank you for your time and consideration,
Best regards and best of luck,
Your Name
Where to Send Your Drug Reform Letter
Once your message is ready don't forget to send it to www.change.gov.
Sacred Cow Productions Presents
American Drug War -The Last White Hope
Friday November 9th, 2007
9:00 pm
Egyptian Theatre, Hollywood

America's War on Drugs gives a radical new perspective to the Drug War by putting a human face on the War's casualties, while enlisting help from some unlikely sources. A Republican Governor? A right-wing Judge? The Last White Hope has made ending the drug war a mainstream issue… Read more at the Sacred Cow Web site.
Karen O'Keefe, Marijuana Policy Project (MPP) assistant director of state policies:
There is good reason to believe that marijuana can boost the efficacy of opioid pain drugs, allowing pain patients to get better relief with smaller doses of narcotic medications. University of California, San Francisco researcher Dr. Donald Abrams is looking for participants to take part in an important pilot study that could lay the groundwork for critical research in this area.
Dr. Abrams is conducting a trial of vaporized medical marijuana in conjunction with opioid medications in chronic pain patients. This is an opportunity for patients to try controlled doses of medical marijuana completely legally — under both state and federal law — for five days and for researchers to collect important data about the safety of medical marijuana.
The study will assess the clinical safety of using marijuana with opioids by monitoring the short-term side effects associated with combined therapy.
Participants in the study must:
Have ongoing chronic pain
Be 18 or older
Be on a stable twice-daily dose of sustained-release oxycodone or morphine medication for at least two weeks before enrollment
Not use marijuana for a month prior to entering the study
Not be a cigarette and/or cigar smoker, or be willing not to smoke for two weeks before starting the study
Meet some additional criteria
Participating patients will:
Spend five days and nights in a clinical research center at San Francisco General Hospital
Attend a screening appointment before the study begins
Have blood tests and other measurements done
Inhale vaporized medicinal marijuana three times a day
You can receive $520 for participating. For more information, call (415) 476-9554, ext. 315, or e-mail pcouey@php.ucsf.edu . The Community Consortium Positive Health Program of the UCSF Medical Service at San Francisco General Hospital is conducting the study.
Thank you for supporting the Marijuana Policy Project. Please pass this on to any chronic pain patients who might be interested in participating in the study.
The Marijuana Policy Project hopes that each of the 100,000 subscribers on our national e-mail list will make at least one financial donation to MPP's work in 2007. Please visit http://www.mpp.org/donate to donate now.
MPP will be able to tackle all of the projects in its 2007 strategic plan if you and other allies are generous enough to fund our work.
We are required by federal law to tell you that any donations you make to MPP may be used for political purposes, such as supporting or opposing candidates for federal office.
PLAYA DUST WEB RING
prev | next | random | list
join the ring
Categories
Favorite Sites