Browsing articles in "Travel"
Route 36 – La Paz, Bolivia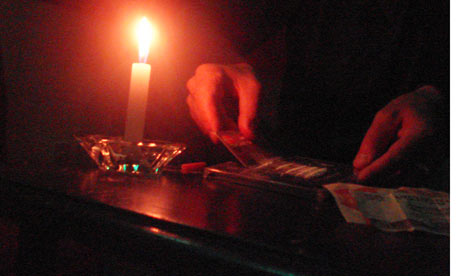 Click on the image to read about the cocaine bar in Bolivia (which, incidentally, is illegal). Here's an excerpt from the article:
"Tonight we have two types of cocaine; normal for 100 Bolivianos a gram, and strong cocaine for 150 [Bolivianos] a gram." The waiter has just finished taking our drink order of two rum-and-Cokes here in La Paz, Bolivia, and as everybody in this bar knows, he is now offering the main course. The bottled water is on the house.
The waiter arrives at the table, lowers the tray and places an empty black CD case in the middle of the table. Next to the CD case are two straws and two little black packets. He is so casual he might as well be delivering a sandwich and fries. And he has seen it all. "We had some Australians; they stayed here for four days. They would take turns sleeping and the only time they left was to go to the ATM," says Roberto, who has worked at Route 36 (in its various locations) for the last six months. Behind the bar, he goes back to casually slicing straws into neat 8cm lengths.
Cari Amici,
We're writing with some WONDERFULLY good news!
First, the USA Fund Raising Tour was a resounding success! Not only did we exceed our goal of $20,000, but we added hundreds of members to Gli Amici dell'Art Monastery, and 5 brilliant experts to our fund raising and production teams! Thank you all so much for showing up at the events and helping us to make this dream a reality.
In May in Calvi, Christopher, the Alpha Team, and our first visiting artists participated in the medieval festival of San Pancrazio (patron saint of Calvi) with a Gregorian Chant Vespers for San Pancrazio in the church and "Tra Quercia e Ulivo" a Duncan dance and medieval music performance in the (rainy) piazza, much to the delight of the locals. Relations here have never been better.
On June 17, we moved from the Casa del Popolo to the Bio-Agriturismo Santa Brigida, a luxurious bed&breakfast on a working olive farm. It is a gorgeous place (in fact, it's listed in the 2007 Michelin Guide) and we hope to take over the management in order to create another income stream for the Art Monastery. We plan to run workshops and seminars here–more info on that will come soon.
Meanwhile, you are all invited to come and visit us in our new digs!
Feeling spontaneous?…
We're offering members of Gli Amici dell'Art Monastery 50% off market rate** from now until July 15! We will offer double rooms or two-double room suites that normally go for 90 or 125 euros per night (they're the most luxurious rooms in Calvi) for 45 or 60 euros!
Don't let high airline ticket prices be an excuse — United Airlines is having a European Summer Fare Sale starting at $385.
It's a great deal, but you have to book by this Friday, June 25. With gasoline at the price it is, heading to the next town is almost more expensive! Now is the time! Have an Italian vacation
and support the Art Monastery at the same time!
See you soon…
A presto…
Betsy & The Alpha Team
**To book, please email mia@artmonastery.org
A Thank You from Forever for LiB
It's been two weeks since LIB and we can still hardly believe what we got to see and experience and learn under those oak trees. We keep hearing the echoes of beats. We keep seeing flashes of so many radiant smiling faces. We keep feeling the ground shake with the magnificent force of daring minds and dancing feet. We are forever grateful.

It is YOU who helped to make LIB08 a truly life-changing experience, and for this we offer our gratitude not just with words, but with images! Check out the faces on the LIB08 Thank You page, and add your own. ~ Pass it on…

The Lightning in a Bottle
Producers and Crew
Much Lightning in a Bottle Photos and Video to See
Visit the LiB website for a non-stop treat of visual snacks… It'll make you cry for joy… and eager for next year!
Wilderness Skills Review Overnight Camp
Saturday, May 17, 2008
10 am Shangri-La
You are invited to participate. After a short condensed class here (at Shangri-La in Topanga Canyon), we'll car-pool to Zuniga and hike in to the private land in the center of Red Rock Canyon State Park for our overnight campout. Overnight camping is not allowed in the surrounding park, and almost no one knows that this 40 acres is private (owned by a close friend), so we have the whole area to ourselves. In addition to the Big Shade???s propane fire (see photo ??? classified as a barbeque for fire regulations),
our multi-person shelter 'club-house' built by previous classes, also has a legal propane central fire. These are both great to sit around and talk, take pictures, and imagine tribal times and activities.
Beautiful Red Rock Canyon
There are a number of small dry clean sandy caves in the area that are just the right size for one or two people to sleep in. I suggest you bring everything you normally would for camping out, and then if you want to improvise so you don???t need pieces of it, great. Otherwise, just getting out there in a comfortable sleeping bag is stretch enough for most people.
Please bring your own lunch for Saturday, and pot luck contributions for an evening meal Saturday and for breakfast Sunday, as well as any snacks you might want. We???ll light a charcoal barbeque Saturday night, and I???ll bring steaks (we can visualize that our trapping was a success). The moon will be almost full.
What Will Be Reviewed?
Class 1 – Shelters, Debris Bed, Make a Lean-to
Class 2 – Drinking Water, Edible and Useful Plants
Class 3 – Refurbishing Our Multi-Person Shelter

Drinking Water 2
Fire Methods 2

Class 4 – Hunting, Trapping, Cleaning, and Cooking Wildlife

(with Practicum)
Fire Methods 3

Class 5 – Make Cordage, Tools, Weapons, and Implements
Class 6 – Keeping Your Bearings, Navigation

Communications
Signals
Knots

Class 7 – Creating Your Survival Kits, Caches

Home Survival Retreat
Course Review

Class 8 – Overnight Campout, Practicum
Checklist of items you might want to bring:
knife, water, sun-hat, jacket, food, bowl, cup, spoon, small flashlight, compass, camera, sleeping bag and mat, ground cloth, small tarp, 2-Qt. pee bottle/jar/can, flip-flops, and a pack to carry it all in. If you don???t have any of these items, I have a few extras of everything, so call to reserve anything you???d like to borrow.
I???ll also bring a big cooking pot, spatula, big spoon, paper towels, wet-wipes, eight family-band walky-talkies, extra nylon cord, shovel, ax, and first aid kit.
Cost is on a sliding scale about $30 per person with no one turned away for lack of funds.
To register, and for answers to any questions, contact William or phone at 310-455-0980
Mind States, Costa Rica
Wednesday, June 13, 2007 – Sunday, June 17, 2007
Featuring presentations by:
Held at an eco-resort on a 2000 acre sanctuary of virgin rain forest set at the juncture of two rivers near the town of Horquetas de Sarapiqui. Swim by natural waterfalls or in the pool, relax in a hot tub, enjoy refreshing beverages at the bar, challenge one of the presenters to a paddle boat race, marvel at the botanical gardens, or arrange a zip-line canopy tour, horseback ride, white water rafting trip, or massage through the resort.
Price includes admission to lectures and workshops, one spot in an incredibly spacious double-occupancy room, and all meals (vegetarian and vegan available).Not included in the price are airfare and transportation to the resort (about 1.5 hours outside of San Jose).
Space is limited–purchase your ticket soon.
Cost is $1,400 per person afterwards.
Payment can be made with a credit card through the Mind States site
Or you may send a check or money order to:
Mind States
P.O. Box 19820
Sacramento, CA 95819
For more information, please visit the Mind States Web site
WELCOME TO ALMA PARADISO
June 1-3, 2007
La Salina Beach, Baja Mexico
This is going to be a great festival on the beach, filled with all the fun freaks you know and love. Many, many talented DJs and live musicians will be there, in a summer party to remember.
Capacity: 450 _ Unfortunately, we cannot increase the capacity as to keep the core family intact and make the experience as meaningful as possible.
As you know, these events sell out fast. Due to the overwhelming response and positive feedback, we are expecting more interests this year. Therefore, BELEIVE US when we say to get your tickets now.
Entertainment:
The main stage will fire up the sounds on Friday and Saturday night from 8pm to 4am. There will be a full stage along with a dance floor constructed on the beach right in front of the waves. This main stage will serve mainly for DJs and fire performances.
Saturday Tribal Sunset Set:
On Saturday as the sun goes down, Saynt will be laying down some earthy tribal beats and all drummers and percussionists are encouraged to bring instruments with them to join in. Dancers, Shaman, and Muses you presence is requested.
Paradise Lounge:
We are also building an exotic venue for acoustic alchemy sets during the day and after hours (2am-8am) with chillout, lounge, and sunrise sets with many live performances, world music, belly dancing and down tempo DJ sets. From Organic Music, Art and Yoga in the morning to an Electronic, Cosmic Meditation throughout the night. From the sand between your toes to your head in the Cosmos, paradise lounge will be there when needed:
2:00am – 3:30am – Brutus
3:30am – 4:30am – Sandbag
4:30am – 6:00am – Dr. Feelin'
6:00am – 7:30am – Carly
6:30 – 7:30 Dan Rockett
7:30 – 8:30 Electro Gypsys / Talisman Dance
8:30 – 9:30 Danyavaad and Shimmy Sisters
9:30 – 10:00 Kirsten Ashe
10:00 – 11:00 Sandbag, Anja, and friends
—- sound off at 11pm, on again at 2am —-
2:00 – 3:00 DJ Blue (downtempo)
3:00 – 4:30 Blackass
4:30 – 6:00 Seda
MAIN STAGE
9:00-10:30 Nick The Neck
9:30-11:00 Guardian
11:00-12:30 J.Cush
12:30-2:00 Sammy Bliss
2:00-3:30 Porter Tinsley
3:30-5:00 Mark Zabala
11:00-12:00 Phil Dog
12:00-1:00 Zak Brown
1:00-2:00 Skandar
2:00-4:00 JP & Rhines
4:00-5:00 Moody Moore
5:00-6:30 Saynt
10:00-11:30 Hyjynx
11:30-12:00 Machina Candeo
12:00-1:30 Fatfinger
1:30-3:00 Oscure
3:00-4:00 Blue
4:00-5:30 Jokton
5:30-7:00 Jesse Wright
DJs, fire performances, a cantina and our OWN PRIVATE MEXICAN BEACH!
For complete details and ticket sales visit:
www.almaparadiso.com
EARLY ARRIVAL:
We are discouraging people from arriving early as we won't be having security on site until Friday morning.
* Remember: You do NOT need a passport if you are driving into Mexico. Any passport or state issued ID will do.
PLAYA DUST WEB RING
prev | next | random | list
join the ring
Categories
Favorite Sites