Browsing articles tagged with "Twan's List | entries"
Contributed by Twan
NEXUS NEW YEARS EVE EXTRAVAGANZA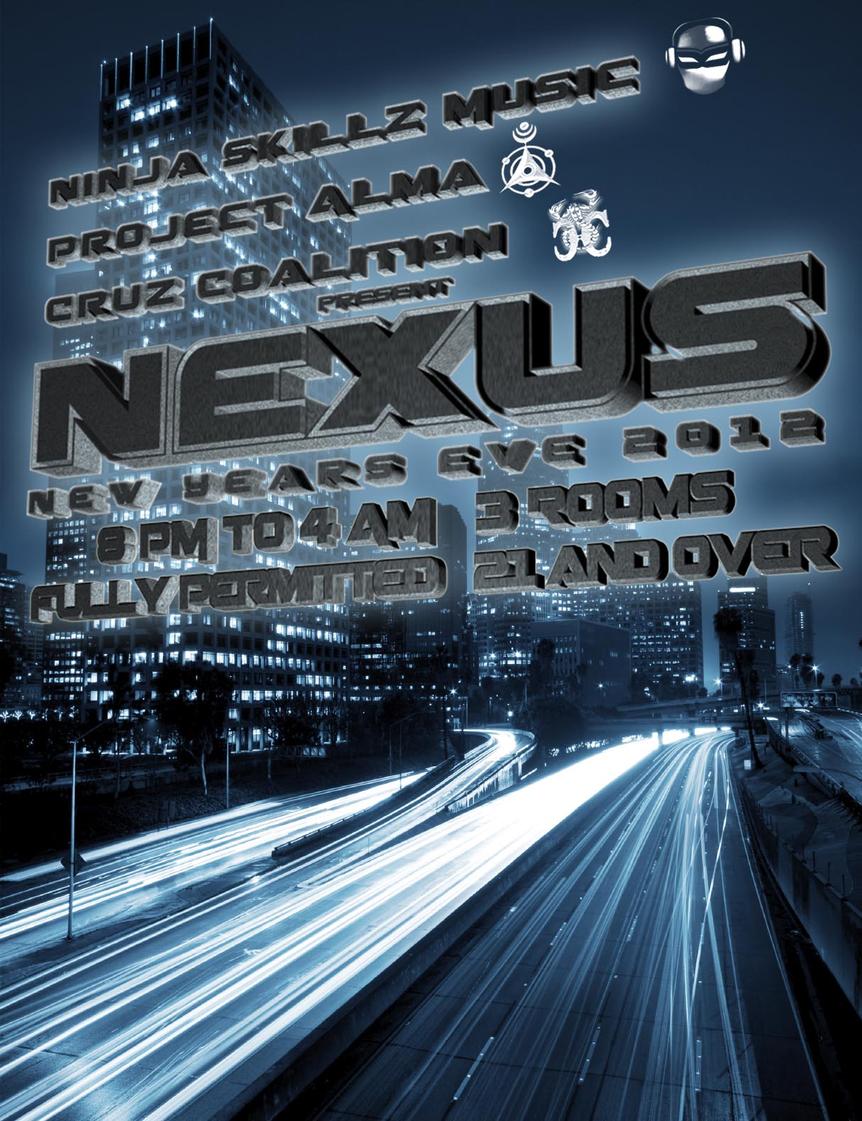 NEXUS NYE
Downtown LA
dec 31st New Years Eve
http://www.facebook.com/events/101759873271495/
6 years ago in the unlikely location of an upstairs warehouse turned boxing ring, a tradition began. That tradition is one family, love, music, and celebration. From that humble origin, Nexus has evolved into an event that incorporates the best in music, art, and expression that Los Angeles has to offer.
This year, the tradition continues as Ninja Skillz Music, Project Alma, and The Cruz Coalition team up to bring you one of the most exciting events that we have ever put together. Those of you who remember the Nexus location from 2 years ago know exactly what we are talking about. Fully permitted till 4am, full bar, an amazing lineup, and YOU. Because lets face it, YOU are the ones that make this a tradition. So join us once again as we cast out the old and welcome the new with the open heart that makes our community great and with the love that makes Nexus a tradition.
1st and 2nd tier presales are now sold out!
We made another 100 presales available today!
http://www.ninjaskillz.net/nexus-2012
For years NEXUS has been one of the premiere NYE events in LA!
Joining forces for this event are:
Ninja Skillz Music
Project Alma
The Cruz Coalition
Also featuring a lounge hosted by Jacques the Ripper!
3 rooms fully permitted
8pm-4am
DJ LINE UP:
Black 22's (THE GOOD VIBE)
Chaplin MXR (PROJECT ALMA / PLUMP)
Diggs (PANTHEON)
Diva Danielle (SHADE / WOBBLE) vs. Jonny Quest (SD)
FatFinger (PROJECT ALMA / PLUMP)
Hooni (TRANSMORPHAGON / PLUMP)
Jacques The Ripper (THE KUNDALINI LOUNGE)
Kimba (SF)
Loomer (THE CRUZ COALITION)
Marcus Edward (NINJA SKILLZ)
Scorpia (NINJA SKILLZ)
Sendai (LA)
Shadow Council (Mark Zabala vs. darkmatter – Ninja Skillz)
The Brute Squad (Michael Insane vs. Will Levine – Ninja Skillz/Cruz Coalition)
Todd Spero (NINJA SKILLZ)
Uncle Saynt (NINJA SKILLZ)
Wolfie (PANTHEON)
•Decor by: Pandora MobileArtVenue & Nascent Perspective Studios
•Live Painting by Ashley Bowers and Chad Harper
•Body painting by: LunarTool
•Event Photography by: Life After Dusk & Paynie
•Event Video by: Ragz The Bear
•Photo Booth by: Chazzarazzi & The Pink Tie
•Booming and Crispy audio by: ChinoSound
•Full bar by: Scarlette Bartending
This is a sell out event every year!
21+ only
Link to HOTELS
http://los.angeles.hotelguide.net/hl1dt.htm
Links to DJs Facebook pages:
Venice Beach Carnevale
Saturday, June 7, 2008
The 6th Carnevale! Venice Beach will be held on Saturday, June 7th at Beyond Baroque, 681 Venice Boulevard from noon until 9 PM. Admission is free and costumes are encouraged in the tradition of the famed Carnevale in Venice, Italy which is the inspiration of this colorful neighborhood festival.
6th Annual Carevale Venice Beach!
The Venice Carnevale, produced by the Venice Artists Forum in Association with the Venice Chamber of Commerce and sponsored in party by the City of Los Angeles Department of Cultural Affairs, will feature an all-day lineup of live entertainment from the local area and will conclude with its traditional fiery finale.
We are very excited to be moving our festival to the Beyond Baroque Literary Arts Center, located in the old City Hall, right next to the fire station on Venice Boulevard just east of Abbot Kinney, and there could not be a more appropriate historical location. It will be an added treat that the old jail next door which houses SPARC (Social & Public Art Resource Center) also be open for the festival that day.

Esquire Jauchem
Event Producer
"We have some of our usual, fantastic performers" said Miriam More, Co-Producer, "and some fabulous new talent.Featured groups will include the Venice Drum Circle, Street Smarts, Kathy Leonardo, Wadada, Hillel "Mr. Balloonman", and a variety of other performances ranging from Baraka bellydancing to Italian opera, ending with a pyrotechic bang furnished by DMT and the Phoenix Projeckt fire dancers!".
Brady Walker, the other Co-Producer, who has been handling relations with the City, had high praise for Councilman Bill Rosendahl's office, "His staff has been extremely helpful in working out the details for use of this city facility. We could not have staged the Carnevale without their help."
The festival will include a variety of performances on the Main Stage, Arts and Crafts vendors, food service, and the Masquerade Bar and Lounge with DJ Fatfinger from Project Alma and guest DJ's all day. Parking is available in public lots east of the event behind the Pacific Resident Theater.
Further information is available at www.carnevale.us or via e-mail at celebrate@carnevale.us
PLAYA DUST WEB RING
prev | next | random | list
join the ring
Categories
Favorite Sites