Browsing articles tagged with "Underground Party"
Contributed by Twan
NEXUS NEW YEARS EVE EXTRAVAGANZA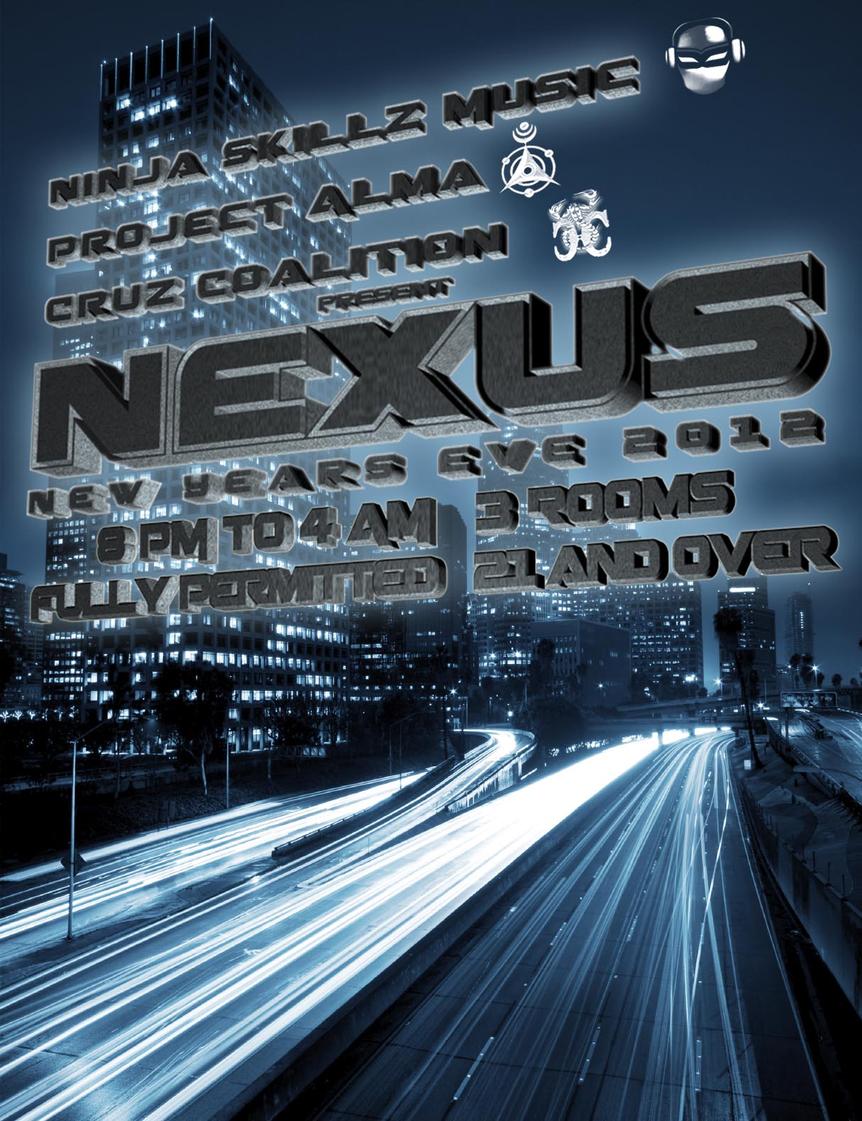 NEXUS NYE
Downtown LA
dec 31st New Years Eve
http://www.facebook.com/events/101759873271495/
6 years ago in the unlikely location of an upstairs warehouse turned boxing ring, a tradition began. That tradition is one family, love, music, and celebration. From that humble origin, Nexus has evolved into an event that incorporates the best in music, art, and expression that Los Angeles has to offer.
This year, the tradition continues as Ninja Skillz Music, Project Alma, and The Cruz Coalition team up to bring you one of the most exciting events that we have ever put together. Those of you who remember the Nexus location from 2 years ago know exactly what we are talking about. Fully permitted till 4am, full bar, an amazing lineup, and YOU. Because lets face it, YOU are the ones that make this a tradition. So join us once again as we cast out the old and welcome the new with the open heart that makes our community great and with the love that makes Nexus a tradition.
1st and 2nd tier presales are now sold out!
We made another 100 presales available today!
http://www.ninjaskillz.net/nexus-2012
For years NEXUS has been one of the premiere NYE events in LA!
Joining forces for this event are:
Ninja Skillz Music
Project Alma
The Cruz Coalition
Also featuring a lounge hosted by Jacques the Ripper!
3 rooms fully permitted
8pm-4am
DJ LINE UP:
Black 22's (THE GOOD VIBE)
Chaplin MXR (PROJECT ALMA / PLUMP)
Diggs (PANTHEON)
Diva Danielle (SHADE / WOBBLE) vs. Jonny Quest (SD)
FatFinger (PROJECT ALMA / PLUMP)
Hooni (TRANSMORPHAGON / PLUMP)
Jacques The Ripper (THE KUNDALINI LOUNGE)
Kimba (SF)
Loomer (THE CRUZ COALITION)
Marcus Edward (NINJA SKILLZ)
Scorpia (NINJA SKILLZ)
Sendai (LA)
Shadow Council (Mark Zabala vs. darkmatter – Ninja Skillz)
The Brute Squad (Michael Insane vs. Will Levine – Ninja Skillz/Cruz Coalition)
Todd Spero (NINJA SKILLZ)
Uncle Saynt (NINJA SKILLZ)
Wolfie (PANTHEON)
•Decor by: Pandora MobileArtVenue & Nascent Perspective Studios
•Live Painting by Ashley Bowers and Chad Harper
•Body painting by: LunarTool
•Event Photography by: Life After Dusk & Paynie
•Event Video by: Ragz The Bear
•Photo Booth by: Chazzarazzi & The Pink Tie
•Booming and Crispy audio by: ChinoSound
•Full bar by: Scarlette Bartending
This is a sell out event every year!
21+ only
Link to HOTELS
http://los.angeles.hotelguide.net/hl1dt.htm
Links to DJs Facebook pages:
The Return of Flammable Liquid
L.A.'s Original After Hours Party
Saturday, September 24th, 2011
This Saturday night, September 24th, is the 20 year regathering of the legendary Flammable Liquid, which was the first of its kind L.A. underground after hours party during the early 1990s. Read more about my personal experiences from those early years below.
A little history about Flammable Liquid:
The Past:
Flam was born in early 1991 during the nascent L.A. underground party scene. Being an insider from the starting gate, I was fortunate to have been able to contribute to the formation of the local underground scene in some small way (which ultimately ended up leading me to become the L.A. Burning Man regional director years later). The experience was extraordinary and changed my life forever.
The Underground as Secret Society:
In those early years, being part of the underground was kind of like being a member of a secret society. Not many people knew about it, but enough to ensure that there were enough bodies to make it fantastic. The underground was the only place where you could find the kind of electronic dance and house music which is now ubiquitous and seemingly inescapable. There was no electronic dance music available at the record stores. You couldn't find it on any radio station. It's as though it didn't exist. Except it did. Big time. But only within this hidden, secret world. If felt incredibly special and unique to be involved in this vibrant, exciting, hedonistic underworld, raging right under the noses of an unsuspecting mainstream, commercialized world. In discovering this world, I had found my people…
Dance Floor Catharsis:
Of all the events in those early years that I was either directly or indirectly involved with, or simply a party-goer, Flammable Liquid was one of the most memorable. Flam was the first of its kind after hours party in Los Angeles. It started at 3:00am on Sunday morning and went until people left, sometimes well into Sunday afternoon. It was epic. People were tribal dancing with streams of tears running down their faces. Total catharsis on the dance floor and good, good vibes. Always held in a new location almost every Sunday. Usually totally illegal (almost all underground parties in the early years were illegal). No permits. No authorization. Complete renegade party production. Living on the edge and living large. It was an exciting way to live. Without Flammable Liquid's early influence on things to come, the Los Angeles After Hours Party Scene might not have been as cool as it was.
Flammable Liquid went on from early in 1991, and ended in September 1992. Years that I will never forget.
The Future:
Now… flash-forward 20 years…. Baba Lou (who is the founder of Flammable, who was only 20 years old when he started it) and co-founder DJ Doc Martin, have gotten back together with their old colleagues to have one more raging one-off. The 20 year regathering of Flammable Liquid.
Kick Ass DJ Line Up!
The same ones who rocked it back in the early 90's
The same DJs who tore up the dance floor back then will be doing it again this Saturday, Sept. 24:
Doc Martin
Mark Lewis
Sean Perry
Barry Weaver
Steve Loria
Eli Star
Electric Skychurch (live performance)
Fido ReyRey
and more.
Trust me. You will be shaking your ass, fo sho!
Get in for Half Price by leaving a comment on this blog posting!!
If you'd like to get on the 1/2 price list, write a comment in the space below this posting. I will then get in touch with you to add your name to the list. I have a limited amount of half price tickets to give out and this blog is not the only method I'm using for this special offer. So act quickly! You'll get in for $30, which isn't bad considering that pre-sales tickets are $50, which goes up to $60 on the day of the event. Please leave me a comment below and let's get this party started!
The price of admission includes an open no-cost bar, which will continue serving drinks until 1:30am.
There will be NO tickets sold at the door. Presale tickets only. Get yours now before it's too late!

I hope to see you there!
More info:
Flam Facebook Group:
http://www.facebook.com/groups/FlammableLiquid/
Flammable Liquid website:
http://flammableliquid.com/
Roam Music gets Leveled
A Very Special Edition featuring Founders of the LA Acid House Movement: Michael Cook, Doc Martin and Mark Lewis with support from Droog, John Wander.
Type: Party – Night of Mayhem
Start Time: Saturday, January 23, 2010 at 9:00pm
End Time: Sunday, January 24, 2010 at 6:00am
We had to move the location of the event to a new Secret Location. Please go to 2650 East Olympic Blvd, Los Angeles California. Cross streets are Olympic and Rio Vista Ave. IMPORTANT: You need to park in the Back of the Old Sears Parking Lot that borders Rio Vista Ave..NOT THE FRONT. PARK AT THE SOUTH END OF THE PARKING LOT AND A SHUTTLE WILL TAKE YOU TO THE PRIVATE LOCATION. WE WILL HAVE SECURITY IN THE PARKING LOT TO BE SURE ALL CARS ARE SAFE. THE BACK OF SEARS… NOT THE FRONT. WE LOOK FORWARD TO SEEING EVERYONE. PLEASE BE RESPECTFUL AND QUIET WHEN PARKING.
A Bit of History of L.A. Underground Music Scene
In the late 80???s, L.A. nightlife sucked, hair metal ruled the sunset strip and dance clubs were the snooty realm of velvet ropes. Then a multiracial bunch of hippies, hip hoppers, and social rejects started throwing all-night acid house parties in abandoned warehouses and a revolution was born. The L.A. Acid House Movement began. (Spin Magazine).
PRESALE TICKETS ADVISED AND AVAILABLE AT:
www.wantickets.com
$20 PRESALE , $30 AT THE DOOR
On January 23, 2010 at an underground warehouse location, Roam Music returns to Los Angeles to get Leveled with a Very Special Edition featuring founding artists of the L.A. Acid House Movement: The Legendary Michael Cook, Doc Martin, Mark Lewis, and support from Droog, and John Wander.
Hosted by: Sublevel, Mixology, Bobby D, John Louie, Moonshine, Steve LeClair – OAP, Amir
MARK LEWIS
Mark Lewis, one of the most revered and respected DJs in the nation, has been a leading figure in the dance music industry and has earned an unchallenged reputation for producing successful worldwide DJ sets for 20 years.
Mark, a London native, began his career in L.A. in 1988. In addition to being one of the pioneers of the West Coast Underground House Scene, He is credited for founding the legendary ???Logic??? party at the West End in Los Angeles CA in the mid 90s. Mark has shared the turntables with the most renowned Global DJs. In addition to being a DJ who has spun throughout Europe, Asia, North and South America and South Africa, he has earned an unchallenged reputation for producing successful DJ sets worldwide. Mark's intercontinental popularity has him rocking the crowds from the infamous Nikki Beach, Giant, Avalon and Cream to Ministry of Sound in England and more. His uplifting music style of cutting edge tribal house infused with progressive riffs has kept him in demand around the globe. Music legends like Carl Cox and Paul Oakenfold have requested Mark to go on numerous U.S. and European tours. Elton John himself often requests the DJ to provide his Foundation parties with the Mark Lewis touch. In the summer of 2000, Mark Lewis launched Mixology, Inc., a multifaceted company home to a record label, events and a marketing division that offers lifestyle options for DJs and DJ connoisseurs. Corporate and Record label clients that Mixology has worked with include: Adidas, Red Bull, Playboy, Bacardi, Armani Exchange, FHM Magazine, Ministry of Sounds, Perfecto UK, Cream, Global Underground, Asahi Beer, Han Asian Vodka, Monster Energy Drink, Stussy, Hard Eight Clothing (L.A.), Warner Bros. and Scion Toyota. Mark has also been taking on new projects as a songwriter and performer in his electronica/alternative band, Interstate.
2009 has been a big year for Mark Lewis: he spun for U2???s after party at the Sundance Film Festival along with Paul Oakenfold; Elton John???s Oscar party for the fifth year in a row; the 9th annual WMC closing party at the world famous Nikki Beach; and Burning Man with Carl Cox. Also is a main feature @ Downtown LA Fashion Week for top designers. His up and coming shows include: the Carl Cox Tour, Mixology Radio Mix shows, Original Productions and remixes by Interstate and Everything But The Girl, Owl City. A coveted residency at Hollywood???s hot-spot-to-be-and-to- be-seen, Ecco starts in 2010 and his online video show called DJ Diaries.
MICHAEL COOK
Michael Cook is a native of Manchester, England currently residing in London. He began DJing professionally at the age of 18 playing a heady mixture of Indy and early Hip Hop & Electro in the North West of England before leaving for the USA in 1986. He's been one of the Djs credited with bringing Acid House to California but prefers to believe he (along with several other DJs) helped bring California to Acid House. Based in Los Angeles California, Michael became one of the founding fathers of the West Coast Underground House & Rave Scene, playing at such legendary vanguard parties as Alices House, Moonshine, Double Hit Mickey, Truth, Paw Paw Patch, Narnia & Gilligans Island. In addition, he hosted Los Angeles first underground dance radio show on KXLU with Jason Bentley.
Michael sites John Peel as his first and most formative musical influence and Michael???s musical tastes remain resolutely eclectic. Michael is the consummate all rounder drawing his set selections from the entire spectrum including Funk, Soul, Reggae, Jazz, Latin, Down tempo, Deep House, Nu Disco, Hip Hop, Electro, Punk Funk, Broken Beat, Rock and Indy; though he is equally happy specializing in any one of these genres.
Currently he resides and plays various residencies in some of Londons top clubs bars and lounges and regularly plays guest sets at home and internationally. The selection of some highlights from his many years as a DJ include Main Backstage/VIP DJ and music programmer for the Glastonbury (2004 & 2005) and Reading festivals (2004 – 2006), Resident DJ for the Big Chill festival, Rob Da Bank's Bestival, Regular DJ partner with Thievery Corporation's Rob Garza (World wide), legendary Notting Hill Carnival house sound system Sancho Panza, Lowlife (Last Night a DJ Saved My Life authors Bill Brewster and Frank Broughton), Tour support DJ for Gotan Project, annual winter residency at La Santanera in Playa Del Carmen, Mexico along with regular international gigs in Lisbon, Rio, Sao Paulo, Moscow, Warsaw, Paris & Barcelona. Some other highlights of Michael???s Dj career include playing at private birthday parties for Madonna and William Orbit and support Dj for Bjork, Happy Mondays, 808 State, Orbital, The Orb, The Farm, The Hacienda, Moby, The Prodigy, and many others. Michael is also known for founding the music for film production company ???M62???.
DOC MARTIN
If there was a house DJ in America who could accurately claim to be the most important house DJ working today, it would be Doc Martin. But then, Doc would never accept such a title even if it happens to be true, because Doc is not only a legendary talent but a legendarily humble man.
Doc Martin???s live sets truly bring people together the variation in his style of music is endless. What makes him so different from the rest? A unique ability to spin everything from deep house vocals that have much depth and meaning to us all in some way, his funky tribal Bass lines mixed with threads of acid, his passive collection of classics rare records that are only to be heard at his gigs.
Doc Martin has developed the respect, as a house DJ that so many of us admire it is this respect that keeps him constantly touring, from New York to London, Japan and everywhere in between. He has frequently played and was a resident at such clubs as, Fabric (London), Panorama Bar (Berlin), Womb (Tokyo), Club Heaven (Seoul) The Faith 10 Year Anniversary (Garden Festival), Ministry (London), Trouw (Amsterdam), Beta (Denver) Secret Sundaze (London), Full Circle, Back to Basics (England Leeds), The End (London) Cielo (New York), Yellow (Japan), Ghost Bar (Las Vegas), Club 5 (DC), How Sweet it is (Los Angeles), Nocturnal Wonderland (Los Angeles), JuJu beats (Los Angeles), Club 5 (Washington DC), Daisy carnival(Los Angeles), Temple (San Francisco), Twilo (New York), Sound Bar, The Park Ultra Lounge (Sacramento) (Chicago) Zentra (Chicago), Sublevel (Los Angeles), Caf?? Del Mar (San Francisco), The Love Parade (San Francisco), Remedy (San Francisco),Seven (Australia) as well as The Basement Jaxx & Daft Punk tour and countless other shows.
JOHN WANDER
Born and raised in Los Angeles, John was exposed to electronic music by good friend, Bobby Dvoran (aka Bobby D) in the early 90???s at legendary LA events such as Flammable Liquid, Truth, Doc Martin???s ???Unlock the House???, Sunday Love, Brownies Dj sets at ???Monarch???, Nectar, Jason Bentley???s ???Bossa Nova???, Marques Wyatt???s ???High Society???, Mark Lewis ???Logic??? at West End, and several others. John sites Michael Cook, Laurent Garnier and the others listed above as his first electronic music influences and the inspiration to start Djing in 1996. A true lover of music for all of his life, John???s music tastes are extremely eclectic and reflect a wide range that include Deep House, Twisted Funk, Techno, Tech House, Indie, Nu Disco, Down tempo, Hip Hop, Jazz, Electro, Rock, Soul, and Latin. John???s early Dj residencies were at the legendary ???Insomnia??? afterhours and Spundae LA.
In 2000, John along with good friends founded the infamous ???Roam Music??? events in LA. Roam Music is known for introducing breakout artists to the West Coast such as Damian Lazarus, Audio Soul Project (Mazi), Asad Rizvi, Tania Vulcano, and several other Spanish artists. They have produced events in Los Angeles, San Francisco, Miami, and Spain. Roam Music is partly credited for bringing Techno back to LA. Roam Music has hosted many break out artists and has given John the opportunity to DJ with various friends/artists such as Phonique, Michael Cook, Doc Martin, M.A.N.D.Y, Jamie Jones, Seth Troxler, Mathew Jonson, Damian Lazarus, Dyed Soundorom, David Duriez, Kate Simko, Three, Marco Carola, and many others in national and international venues through out Spain, Berlin, Montreal, Hong Kong, New York, London, Miami, San Francisco. John is currently working in the studio with friend Rob G and engineer Casey Nefcy on a remix to be completed in January 2010. Currently in stealth mode, John will be launching a record label in 2010.
DROOG
A quintessential LA story: three people (Andrei Osyka, Brett Griffin, Justin Sloe) make a westward pilgrimage at the turn of the millennium, all from different places and backgrounds, unknown to each other but connected by love of dance music and the search for fresh and exciting territory. A friendship, formed after chance meetings in the Los Angeles dance music scene, evolved into a full- fledged musical partnership.
From the first gig together in 2005, through countless hours spent crafting a common creative identity, Droog was formed. Droog???s individual musical origins and taste combined under the common denominator of the collective – Justin???s love of old school hip-hop and house, and his proficiency with a down-tempo style; Brett???s affection for classic New Wave and fresh indie rock, Andrei???s beginnings in deep and disco house of the late 90???s.
Droog honed their skills alongside such luminaries of the scene as Richie Hawtin, Damian Lazarus, Tiefschwarz, M.A.N.D.Y., Locodice, Josh Wink, Booka Shade and others. Droog???s opening and closing sets, as well as burgeoning relationships with the strongest global talent, have helped cement Avalon???s reputation as the venue of choice for cutting edge dance music in Los Angeles. A natural extension of the Avalon experience for Droog was the desire to throw their own events, which have showcased forward-thinking music from the world over. Droog have delivered the underground to the heart of Hollywood with a series of nighttime soirees and have gotten international attention with a host of parties on the rooftop of the modern Standard Hotel. In two years of events, the collective played with and showcased rising global stars and established creative forces from Magda, Jamie Jones and Seth Troxler to LoSoul, Konrad Black and Ewan Pearson. At the same time, Droog have expanded their reach by DJing throughout the United States.
Sharing the controls with the artists they respect and admire most, building a scene around their parties, DJing on the road, and combining sensibilities of three personalities have all contributed to Droog developing their own distinct sound. Droog???s sets fuse the classic U.S. house and techno traditions with the best in European underground dance music, from deep house to minimal.
2009 has been a banner year for the lads. At this year???s WMC, Droog launched their nascent label, Culprit. After a barnstorming showcase at DEMF, Culprit released its first EP by Hot Natured (Jamie Jones & Lee Foss) in June. The slate of new releases planned on the label will include Droog???s debut original and remix material.
The Droog collective now stands poised to solidify and expand this reputation, at the forefront of the LA dance music resurgence.
PLAYA DUST WEB RING
prev | next | random | list
join the ring
Categories
Favorite Sites